Welcome to WordPress. This is your first post. Edit or delete it, then start blogging!
Free Subscription to the Daily Biofuels Digest e-newsletter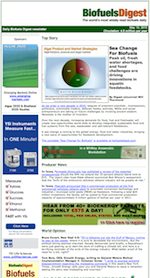 Subscribe FREE to the world's most-widely read biofuels daily.

Enter your email in the box below,
Entry Information
Filed Under: Uncategorized
About the Author:
Hi, this is a comment.
To delete a comment, just log in and view the post's comments. There you will have the option to edit or delete them.
Sorry, comments for this entry are closed at this time.