In California, John Melo has to be feeling like the luckiest man on the Planet Earth these past months.
His current gig: CEO of the IPO-bound Amyris Biotechnologies, which has raised more than $180 million in private capital this year, including $133 million this week from French oil major Total, as well as inking partnerships with P&G, Shell, Cosan, Italy's M&G and Soliance just to mention those in the past five days.
His former gig: Head of the North American fuels business for BP.
Imagine, as you might, the differentiation in strategies employed by, say John Melo and BP CEO Tony Hayward to achieve the "get my life back" goal.
The Magic Bug: its origins
Amyris had its technological foundation nine years ago in the Keasling lab at Berkeley, when Jay Keasling and his team of post-docs pioneered a methodology to produce isopentenyl pyrophosphate, at rates with commercial potential, from yeast-fermented sugars.
Keasling's magic bug, genetically enhanced from a soup of DNA obtained from bacteria and the plant world, is a five-carbon base chemical and a high-value target in the world of what is now known as the field of renewable chemicals — its a path to isoprenoids, which are themselves a family of some 50,000 molecules that have applications or pathways for pharmaceuticals, fragrances, cosmetics and fuels. Keasling filed the patent in 2001, and Amyris itself was eventually formed and funded by 2006 with $14.1 million in Series A investments from Kleiner Perkins and Khosla Ventures among other early backers.
Amyris: from artemesinin to farnesene
The pre-catalyst for the company was its development of synthetic artemisinin, used as an anti-malarial drug, a project backed by the Bill & Melinda Gates Foundation in 2004 with a $2.4 million investment that promised to cut the market price of artemisinin, which can increase cure rates (when included in drugs such as Coartem) in selected global regions from 50 to 96 percent.
According to a profile of Amyris in Technology Review that appeared this past spring, the Amyris team swapped out a single enzyme in their magic bug and, thereby, switched the end product from artemesinin to farnesene.
So what exactly is it? It's a fragrant oil chemical – that distinctive acrid odor you detect in a Granny Smith Apple, that's it. You also find traces of it in the hops used for some very nice Czech pilasters and Irish lager beers. It's used as a component in its own right by manufacturers around the world.
Here's some background on farnesene demand, suppliers and characteristics from The Good Scents.
The Amyris strategy — commercialize farnesene on a contract manufacturing basis, then turn to farnesane, which you produce by adding hydrogen to farnesene. Farnesane is the company's showcase diesel molecule, and forms the basis of its breakout from a speciality pharma and chemicals maker to a fuel player.
Last December, Amyris announced a deal to build a 26 Mgy farnesene facility inside Sao Martinho's new Boa Vista sugar and ethanol mill in Goiás state, Brazil. The deal has been subsequently modified, but at the time the $80 million payment for a 40 percent interest in the plant, which Amyris acquired, was the highest valuation on processing capacity ever paid in Brazil. Amyris was expressing its urgency.
Under a revised agreement announced in April, Boa Vista will continue to be owned by Sao Martinho. The two partners will now will establish a 50/50 joint venture to build a chemical plant in the Usina Sao Martinho unit in Pradopolis (Sao Paulo state), which will commence production in 2012. The proposed plant will process up to 1 million tones of sugarcane per year.
Here's more on the Amyris strategy and progress, as of March, in the Digest's pre-IPO announcement profile: The Yeast Kings: Amyris rises, and raises a lot of dough."
Since that profile and the IPO announcement, there has been a lot more talk about farnesene than farnesane (which from here we'll call renewable diesel to avoid confusion).
Here's Amyris on farnesene, from their S-1 registration statement.
We are building an integrated renewable products company by applying our industrial synthetic biology platform to provide alternatives to select petroleum-sourced products used in specialty chemical and transportation fuel markets worldwide. We genetically modify microorganisms, primarily yeast, and use them as living factories in established fermentation processes to convert plant-sourced sugars into potentially thousands of molecules.

Our first commercialization efforts have been focused on a molecule called farnesene, which forms the basis for a wide range of products varying from specialty chemical applications such as detergents, cosmetics, perfumes and industrial lubricants, to transportation fuels such as diesel. We have focused our research and development, business development and production operations on the use of Brazilian sugarcane as our primary feedstock for the foreseeable future, because it is abundant, low cost and relatively price stable.

We intend to secure access to this feedstock and expand our production capacity in a "capital light" manner. Under this approach, we expect to work with Brazilian sugar and ethanol producers to build a new, "bolt-on" facility adjacent to their existing mills instead of building new "greenfield" facilities, thereby reducing the capital required to establish and scale our production. Our first such arrangement is our joint venture with Usina São Martinho, one of the largest sugar and ethanol producers in Brazil.

In 2006, leveraging our research on artemisinin, we launched formal research programs to produce farnesene, a molecule which can be used as a renewable chemical ingredient for consumer and industrial products and as a fuel. We believe that we will be able to enter certain specialty chemical markets with farnesene if we can attain at commercial production scale the 15% yield that we have achieved at two liter scale. We will continue to seek to improve our yield of farnesene and other molecules in order to enter additional markets profitably and improve our production economics.

One of our priorities is to evolve our production processes to transition from laboratory to commercial scale. To do this, we expect to initiate commercial production through the use of contract manufacturing as we complete our joint venture facility with Usina São Martinho which will be located in Brazil.

The construction of the facility at Usina São Martinho will be the first project of this nature that we will design and manage. We expect the construction costs of the new facility to total between $80 million to $100 million. Under the terms of our joint venture agreements, construction of the production facility will take place in two phases. Phase I is designed to construct a facility capable of producing farnesene from one million tons of crushed sugarcane annually, and Phase II will expand that capacity to two million tons annually.

We will provide the initial funding for Phase I and within one year of the commencement of Phase I commercial operations, Usina São Martinho will be required to reimburse us for half of the cost of Phase I, up to a cap of 30.9 million reais ($17.1 million based on the exchange rate on June 11, 2010). Thereafter, Usina São Martinho will co-fund the construction of Phase II and, as necessary, make a final payment at completion such that their total contribution will be 61.8 million reais ($34.2 million based on the exchange rate on June 11, 2010).
Amyris and its farnasene deals
Soliance. Amyris and Soliance announced that they have entered into a partnership combining Amyris's industrial synthetic biology platform with Soliance's leadership position in the production and commercialization of renewable cosmetic ingredients. Under the agreement, Soliance has already begun the manufacture of farnesene, or Biofene, in its industrial fermentation facilities using Amyris's biotech process. Biofene will be converted into squalane which will be marketed directly by Soliance to cosmetics industry customers. In addition to the Soliance production, the parties expect to manufacture in Brazil and possibly additional sites in Europe. Amyris and Soliance will share the profits from this undertaking. More on the Soliance deal.
M&G. On Thursday, Amyris, Inc. and M&G Finanziaria  announced a two-part collaboration agreement. The first part of the agreement contemplates the incorporation of Amyris farnesene as an ingredient into M&G polyethylene terephthalate (PET) processing.  This would culminate in an off-take agreement that would commence upon successful completion of product integration. In the second part of the agreement, the parties will work together to combine access to low cost sugars by integrating M&G's ProEsa lignocellulosic process with Amyris's synthetic biology platform to produce renewable fuels and chemicals.
Amyris said it expected production from its São Martinho joint venture may be used to provide farnesene for M&G. M&G is presently the world's largest producer of PET for packaging applications with production capacity of 1.7 million tons annually.  30 percent of global PET demand is for transparent plastic bottling. Group sales proceeds in 2008 were almost $2.6B. More on the M&G deal.
P&G. Also this past Thursday, Amyris announced a series of agreements with The Procter & Gamble Company (NYSE: PG). These agreements focused on the use of Amyris's renewable product farnesene (Biofene) in certain specialty chemical applications within P&G's products. In connection with these collaboration agreements, the parties have also entered into a supply agreement for Biofene which would commence upon successful completion of certain technical and commercial milestones. More on the P&G partnership.<
Moving from Biofene to Biofuels
The chemical transition from farnesene to renewable diesel is not difficult, but the pricing environment is a different animal. Amyris has, as its primary post-IPO challenge, to tackle the proof that it can replicate its lab and pilot results at scale.
There are concerns about how robust the engineered yeast will prove in an industrial-scale setting. Concerns generally raised by those familiar with Amyris's technical challenges, but not yet (at least to the Digest) by the member of the scientific team led by CTO Neil Renninger.
Also, there is the concern over the "drop-in" nature of drop in fuels. Sandia National Lab's team, led by Ron Stolz, is prepping a comprehensive workshop report on Biofuels and engines and, in the report or elsewhere, is expected to red-flag "drop-in fuels" as an unproven technology until comprehensive engine testing has been completed. Engine experts elsewhere in the industry, as well as oil refiners, have expressed some skepticism over specific drop-ins, despair generally welcoming the technical approach of renewable fuels that do not require infrastructure changes.
On Tuesday, Amyris announced its partnership with Cosan with the establishment of a joint venture for the worldwide development, production and commercialization of renewable intermediate chemicals for specific industrial and automotive applications, from sugarcane. Under the joint venture, the parties will jointly commercialize the target products throughout the world, based on Amyris's synthetic biology platform and Cosan's product development, manufacturing and marketing capabilities. The parties said that they expect to complete a definitive agreement later this year. More on the Cosan JV.
On Wednesday, French oil major Total agreed to acquire approximately 17% equity interest in Amyris for $133 million and will have the right to appoint a member of the Amyris Board of Directors. Under their collaboration agreement, Total and Amyris R&D teams will work together to develop new products and build biological pathways to produce and commercialize renewable fuels and chemicals. The partnership combines Amyris's industrial synthetic biology platform and emerging Brazilian production capacity with Total's technological know-how, industrial scale-up capabilities and access to markets. More on the Total deal.
Amyris in perspective
The combination of IPO-related communications and the financing and partnership environment has firmly focused Amyris on a chemicals-first strategy, but make no mistake in the company's intentions by noting that, out of 50,000 potential molecules, they chose a chemical that is one hygdrogentation step away from a renewable diesel.
That, combined with a flurry of JVs and partnerships focused both on the chemicals and fuels markets, demonstrates that Amyris is fully embarked on an integrated strategy of flexible product lines, an impressive array of partnerships and contract manufacturing arrangements to keep the company on its "capital light" path.
Major open question? Performance of the magic bug at industrial scale.
Achilles heel? Dependence for the near term on Brazilian sugarcane resources for its sugar feedstocks. Sugar is half the price of farnasene in the Amyris equation – near as any analyst has been able to decipher, and with the price of Brazilian sugar doubling in the 2008-10 time frame before retreating this year – the dependency will not only be on Brazilian harvests, but India's (which are more subject to variance), unless Amyris obtains through Cosan an access to enough sugar to fund all its expansion, and Cosan were prepared to look at the long-term opportunities rather than short-term price opportunities in sugar markets were prices to rise again.
That's an equation of long-term strategic interests between partners that has utterly eluded the US ethanol and biodiesel industries, which have seen their feedstocks partners take market prices time after time, and if that harms the processors, tough luck. Will there be good luck in sugar prices or bad luck for Amyris? Well, certainly you have to consider that the forecasts look great for this year and, keep in mind, CEO John Melo is a lucky guy.
More on Amyris including some IPO commentary in Biofuels Digests look at Amyris's IPO and fuel technologies, here.
Free Subscription to the Daily Biofuels Digest e-newsletter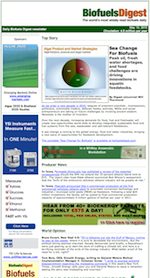 Subscribe FREE to the world's most-widely read biofuels daily.

Enter your email in the box below,
Entry Information