In Texas, Global Water Group has been chosen by the US Air Force to supply a 'green' transportable wastewater treatment and effluent recycling system to five bases in Afghanistan.
Global designed a process utilizing a super-charged air environment to promote better sludge digestion and combined this with Global's proprietary Recycling and proprietary LS3™ (water purification) components to create this environmentally green total processing system. It is based on the aerobic biological treatment referred to as "extended aeration – activated sludge" where air flow and bacteria digested sewer sludge.
Free Subscription to the Daily Biofuels Digest e-newsletter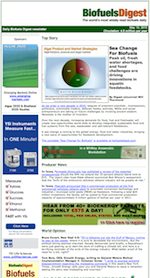 Subscribe FREE to the world's most-widely read biofuels daily.

Enter your email in the box below,
Entry Information
Filed Under: Producers
About the Author:
Sorry, comments for this entry are closed at this time.