In Holland, Purac has signed a contract to participate in a consortium that will develop a process to produce feedstock from cellulosic waste derived from the pulp and paper industry. This feedstock is expected to be usable for production of lactic acid.
The other partners in the program are Crown Van Gelder, a paper producing company, and Bumaga, a development center in the paper and board industry.  The project is part of the Dutch Biorefinery program and partially funded by the Dutch Ministries of Economic Affairs and Agriculture, Nature and Food Quality.  This initiative will help speed up Purac's program to use alternative non-food substrates such as agricultural byproducts instead of sugars, glucose and tapioca starch as substrates for its fermentation processes.
Free Subscription to the Daily Biofuels Digest e-newsletter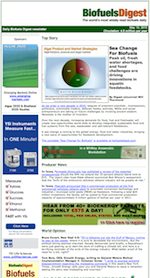 Subscribe FREE to the world's most-widely read biofuels daily.

Enter your email in the box below,
Entry Information
Filed Under: International
About the Author:
Sorry, comments for this entry are closed at this time.