In Washington, the Federal Trade Commission today proposed revisions to the guidance that it gives marketers to help them avoid making misleading environmental claims, referred to as "greenwashing" by critics.  The proposed changes are designed to update the Guides and make them easier for companies to understand and use.  The changes to the "Green Guides" include new guidance on marketers' use of product certifications and seals of approval, "renewable energy" claims, "renewable materials" claims, and "carbon offset" claims. The FTC is seeking public comments on the proposed changes until December 10, 2010, after which it will decide which changes to make final.
"In recent years, businesses have increasingly used 'green' marketing to capture consumers' attention and move Americans toward a more environmentally friendly future. But what companies think green claims mean and what consumers really understand are sometimes two different things," said FTC Chairman Jon Leibowitz. "The proposed updates to the Green Guides will help businesses better align their product claims with consumer expectations."  For example, if a marketer claims that a product that is thrown in the trash is "degradable," it should decompose in a "reasonably short period of time" – no more than one year.
Free Subscription to the Daily Biofuels Digest e-newsletter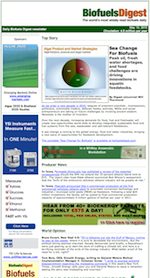 Subscribe FREE to the world's most-widely read biofuels daily.

Enter your email in the box below,
Entry Information
Filed Under: Policy & Policymakers
About the Author:
Sorry, comments for this entry are closed at this time.