In Taiwan, Toyota's trading company, Toyota Tsusho has established a joint venture with Taiwan's China Man-Made Fiber Corp, Greencol Taiwan with an initial capitalization of USD $123 million.  Greencol will import sugar cane based ethanol from Braskem in Brazil, to produce mono ethylene glycol, a precursor to PET plastic.
Toyota over the last month has announced a number of vehicle models that will incorporate bioplastics, especially covering the interior of their vehicles.  Toyota Tsusho stated, "In such a situation, we will have a shortage of bio-PET,because there are only 200,000 tons (our estimate) of availability in the world as of today."  Toyota Tsusho expects to produce and sell 200,000 tons of bio-PET, with the ability to increase capacity to 1 million tons as needed.
Free Subscription to the Daily Biofuels Digest e-newsletter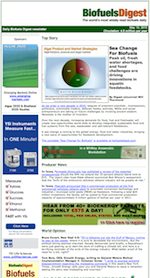 Subscribe FREE to the world's most-widely read biofuels daily.

Enter your email in the box below,
Entry Information
Filed Under: International
About the Author:
Sorry, comments for this entry are closed at this time.