In China, Chinese scientists teaming with Australian scientists are looking at the possible uses of African giant napier grass as a means of cleaning up contaminated sites, while also producing a biomass crop suitable for ethanol or other chemical uses.  The project is the result of work conducted jointly by Cooperative Research Center for Contamination Assessment and Remedication of the Environment, the HLM Asia Group of Hong Kong and the Shaoguan University in Guangdong Province.  The napier grass was chosen for two attributes;  its ability to draw out a number of pollutants, including heavy metals, and its ability to grow in poor soils.
Professor Ravi Naidu, CRC CARE managing director gives two reasons for napiers ability to decontaminate soil:  "The first is that when you have hydrocarbon contamination, the grass is able to pump oxygen into the soil and through that process certain types of hydrocarbons will biodegrade… The other role is with metal contaminants: the grass is able to take up metals and accumulate them in the upper parts of the grass."  Sites in Guangdong have been test, but further tests will need to be done.   A number of issues remain to be resolved.  Dr. Isa Yunusa, environmental scientist with the University of New England in New South Wales states several concerns, one of which is:  "If the crops accumulate the toxins in the edible parts of the plant, then there's a problem."
Free Subscription to the Daily Biofuels Digest e-newsletter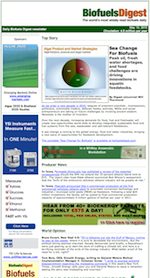 Subscribe FREE to the world's most-widely read biofuels daily.

Enter your email in the box below,
Entry Information
Filed Under: Research
About the Author:
Sorry, comments for this entry are closed at this time.