In North Carolina, Lenoir County Board of Commissioners approved a $50,000 incentive grant to Dupont to keep the Kinston plant open.  The plant manufactures Dupont's Sorona product, an agricultural feedstock polymer that is used in the textile industry for apparel, carpet fibers or plastics.
This is a two year, performance based grant in which Dupont must keep up with its $5.4 million capital investment plan to upgrade the plant.  The grant funds will be used to replace the coal fired boilers with natural gas boilers.  Mike Jarman, County Manager stated, "We're trying to ensure that we look out for this Sorona project and help it to grow here."
Free Subscription to the Daily Biofuels Digest e-newsletter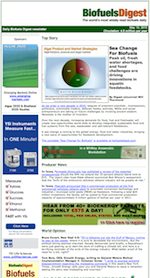 Subscribe FREE to the world's most-widely read biofuels daily.

Enter your email in the box below,
Entry Information
Filed Under: Producers
About the Author:
Sorry, comments for this entry are closed at this time.