In New Jersey, DSM Pharmaceutical signed an enzyme supply agreement with Codexis. The agreement grants DSM rights to use Codexis' custom biocatalysts and services, and secures supply of Codexis enzymes for commercialization of sustainable enzyme-based pharmaceutical manufacturing routes developed by DSM's InnoSyn™ route scouting services. Codexis is a clean technology company that develops optimized biocatalysts for industrial processes.
Free Subscription to the Daily Biofuels Digest e-newsletter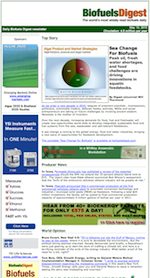 Subscribe FREE to the world's most-widely read biofuels daily.

Enter your email in the box below,
Entry Information
Filed Under: Producers
About the Author:
Sorry, comments for this entry are closed at this time.