In Canada, CO2 Solution announced that it has extended the carbon capture Joint Development Agreement with Codexis, which was originally announced December 15, 2009.  Under the agreement, Codexis and CO2 Solution have collaborated on the development of customized carbonic anhydrase biocatalysts and related processes to enable capture of carbon dioxide from power plants and other large stationary emissions sources.   CO2 Solution reports that results to date have shown that the combined CO2 Solution / Codexis proprietary technologies have the potential to significantly lower the capital and operating cost barriers associated with conventional technologies to capture CO2 from power plant effluent gases.  CO2 Solution's proprietary enzymatic method for the capture of carbon dioxide from coal‐fired power plants and other large sources of emissions will continue to be combined, on an exclusive basis, with Codexis' directed enzyme evolution technology, and the agreement has been extended until the later of June 30, 2012, or six months after the expiry of any third‐party collaborations.
Free Subscription to the Daily Biofuels Digest e-newsletter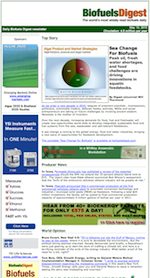 Subscribe FREE to the world's most-widely read biofuels daily.

Enter your email in the box below,
Entry Information
Filed Under: International
About the Author:
Sorry, comments for this entry are closed at this time.