In Germany, BASF and Switzerland's Evolva Holding announced that they have signed an agreement for joint research on the design of novel and optimized biosynthesis routes for selected natural products with crop protection potential.  The collaboration will initially cover two projects. BASF will pay Evolva an up-front technology access fee and ongoing research fees. BASF will have responsibility to take forward compounds produced during the collaboration and will potentially pay Evolva research and development milestone fees as well as royalties on products that result from the collaboration. This is Evolva's first collaboration in which its technology will be applied to the agricultural sector.  Evolva uses biosynthetic and evolutionary technologies to artificially create and optimise small molecule compounds and their production routes.  

Free Subscription to the Daily Biofuels Digest e-newsletter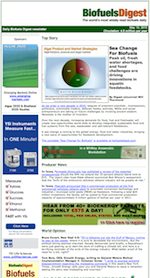 Subscribe FREE to the world's most-widely read biofuels daily.

Enter your email in the box below,
Entry Information
Filed Under: International
About the Author:
Sorry, comments for this entry are closed at this time.