In California, Cereplast announced the panel of judges for the "Make Your Mark" design competition that will produce a symbol to be used to identify products and packaging that are made from bioplastics ("green," bio-based plastics, not petroleum-based plastics). At the close of the contest on March 4, 2011, over 1,500 design entries were received. The designer of the winning bioplastics symbol will receive $25,000.   Dr. Gary Anderson, who in 1970 created the globally recognized "recycling symbol,"  Rod Dyer, President of Rod Dyer International, John Newland, Herman Miller Vice President of A+D,  Eric Pfeiffer, President and Creative Director of Pfeiffer Lab, Karim Rashid, a World-class industrial designer, Rebecca Minkoff, a Fashion Designer, and Dr. Michael Thiele, publisher of bioplastics MAGAZINE.
Free Subscription to the Daily Biofuels Digest e-newsletter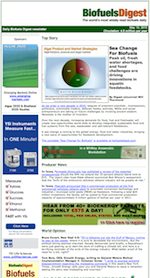 Subscribe FREE to the world's most-widely read biofuels daily.

Enter your email in the box below,
Entry Information
Filed Under: Producers
About the Author:
Sorry, comments for this entry are closed at this time.