In New Jersey, Stevens Institute of Technology students have designed a biochar electrode replacement for traditional activated carbon electrodes, used in superconductors.  The three students, Katie Van Strander, Liana Vaccari and Rachel Kenion, as part of their project, designed, produced and tested their prototype, and successfully demonstrated that their electrode can work in a superconductor.  Their group adviser is Dr. Woo Lee, who stated, "While the team's findings are preliminary, the approach taken by us represents a small, but potentially very important step in realizing sustainable energy future over the next few decades."   Liana explained, "With our process, we are able to take that biochar and put it to good use in supercapacitors. Our supply comes from goldenrod crop, and through an IP-protected process, most organics, metals, and other impurities are removed. It is a more sustainable method of production than activated carbon."  The team believes that their biochar electrodes will cost about half the price of activated carbon, and at the same time it is sustainable as their biochar is a byproduct of biofuel production.
Free Subscription to the Daily Biofuels Digest e-newsletter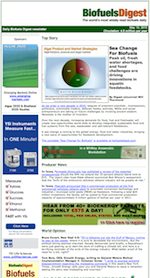 Subscribe FREE to the world's most-widely read biofuels daily.

Enter your email in the box below,
Entry Information
Filed Under: Research
About the Author:
Sorry, comments for this entry are closed at this time.